A little saddle sore with a strained Achilles and very tired after his 'little cycling challenge,' Airport Energy's operations manager Craig Heggie got back to work.
Every couple of years Craig sets himself a 'crazy challenge' to raise money for the Sebastian's Action Trust. "It's an amazing charity that I and some of you have supported since 2006," said Craig. The following video explains how the charity came about and highlights the legacy of Sebastian Gates.
Earlier this month, a team of 10 set out to cycle 700 miles from Basingstoke to Paris and back again in just 5 days. Craig's bike was fitted with a tracker so supporters, friends and family could follow the team's progress live online.
"The whole week became a bigger challenge then we expected," Craig told Fuel Oil News. "We had everything thrown at us – head winds, an 8 mile hill, 15 punctures, two broken spokes, thunder and rain."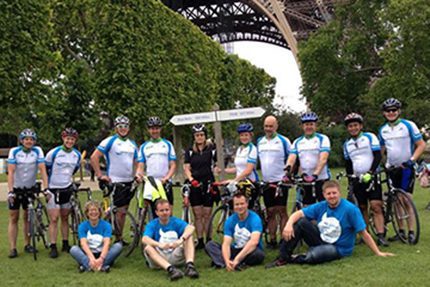 The Basingstoke to Paris team in Airport Energy sponsored shirts
Seven out of the 10 completed the challenge in 4 days, 13 hours and 40 minutes with a average of 140 miles a day and to 15 hours a day in the saddle.
"On the plus side cycling down the Champs Elysées from the Arc de Triomphe was an amazing experience and, to date we've raised just over £9000, so a massive thanks to all those who supported us.
"If anyone wishes to personally sponsor me post event, please follow the link to my just giving page http://www.justgiving.com/CraigB2P2B